GSMCON2024: Add-on workshops now available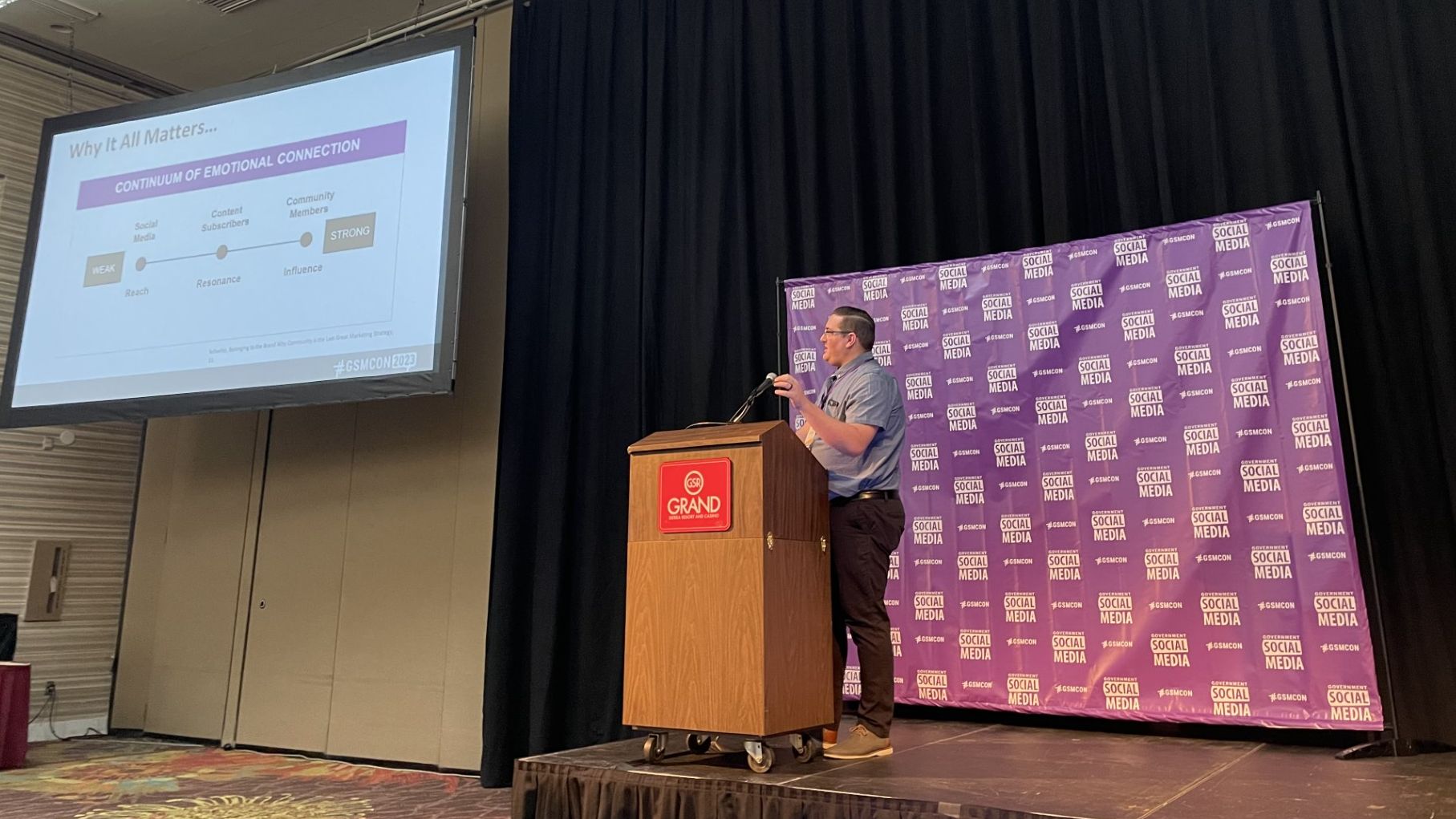 Elevate your participation in the 2024 Government Social Media Conference by adding on one or more pre-conference workshops or be part of our returning VIP Ticket experience!
Workshops are hosted by experienced industry professionals, where we're delving into some of your most requested topics — including Instagram Reels, advanced issues on copyright, fair use and AI on social media. In these 2-hour add-on workshops, you'll get a deep dive that will elevate your role as a govie who handles social media.
Workshops are held only in-person at the GSMCON2024 venue on April 15, 2024 and are not recorded. All workshop attendees also receive a digital certificate of completion!
Workshops are available for $100 each when you register for GSMCON2024, or you can attend all 3 workshops as part of the exclusive VIP Ticket. If you are already one of the hundreds registered attendees, please reach out to us and we'll send you a special link to add-on workshops or upgrade to a VIP ticket.
Workshops
All add-on, pre-conference workshops are only held in-person on Monday, April 15, 2024. Workshop participants can expect in-depth sessions with small group activities. Every person who completes any workshop will receive a digital certificate of completion!
Government Social Media 101
Led by the GSM professional association Training Committee
10 a.m. - Noon local time (pacific)
Welcome to government social media! This comprehensive workshop is an introduction for communicators who are new to managing social media for government agencies. If you already have a basic level of social media knowledge and need to learn how to effectively manage social media for government, you'll build a strong foundation with the topics covered in this workshop. Learn the framework for handling public sector social media (such as policy, strategy, accessibility and First Amendment), and get practical advice on successfully creating content, publishing, monitoring and engaging with the public on the major social media platforms.
During this workshop led by the GSM professional association Training Committee, you'll also get a heads-up on what other conference sessions to look out for, how you can get involved in this community, and you'll walk away with a new network of colleagues to aid in your professional growth.
Topics covered include:
How to build your framework for government social media management

Challenges of handling social media in government & skills needed

How to best utilize major platforms

Tools for efficiently managing content

Best practices for handling comments, negativity & successful citizen engagement
Mastering Instagram Reels for Government Agencies
Led by Angela Ramirez, Communications Manager
12:30 - 2:30 p.m. local time (pacific)
Discover the power of Instagram Reels in a two-hour hands-on workshop designed specially for government communicators. You'll go beyond the basics of short-form video as we focus on creating engaging Reels from scratch, turning trends into effective storytelling tools for your agency and keeping your audience engaged. Come with a fully charged phone to put what you learn to practice in this in-depth workshop!
Led by a 2023 Golden Post Award winner, this hands-on session will equip you with the skills to captivate your audience and amplify your agency's message on social media. Not on Instagram Reels? Take these proven short-form video pro tips and apply them to your favorite platforms.
While geared towards intermediate and advanced socialgovs, beginners are welcome, too. Join us to master the art of Reels and elevate your government's online presence!
Legal 301: Advanced Issues on Copyright, Fair Use & AI on Social Media
Led by Julie Tappendorf, Equity Partner, Ancel Glink, PC
3 - 5 p.m. local time (pacific)
Government social media communicators have observed many legal dilemmas in this rapidly changing world of artificial intelligence (AI), and it's hard to stay updated on how you can embrace these advancements while still protecting your agency.
This advanced workshop is for public sector social media professionals who make and share content on behalf of their agency. What do you need to know to stay compliant with current laws? We're bringing back attorney Julie Tappendorf to expand on her top-rated talk! Get ready for a 2-hour deep dive into:
Copyright issues of AI-generated content

Intellectual property principles

"Fair use" of memes & music

And more!
We'll look at real-world examples and the latest case law, all in plain language, so you can take these considerations back to your agency as you continue to collaborate with leadership and your legal counsel!
Sign up for all 3 with the VIP Ticket
Are you looking to really take your learning to the next level at GSMCON2024 and add-on all three workshops? Want additional perks?
We're bringing back our VIP Ticket experience for 2024! Based on popular demand at last year's event and attendee reviews, we're excited to offer this upgraded ticket again, created in mind for the socialgov who wants to get access to everything at the event:
Access to all 3 pre-conference, add-on workshops on April 15

VIP-only pre-conference welcome reception cocktail hour (includes 1 drink ticket) on April 15

VIP dinner & evening networking activity on April 17

Includes Action Planning Add-On

Includes Extended On-Demand Add-On

GSMCON T-Shirt

VIP charging station access

Badge upgrade
These tickets are limited! Register as soon as possible if you're looking for this exclusive experience.
Register today for GSMCON2024
No matter what ticket type you choose, make sure to register soon! Early-Bird pricing only lasts until November 30, 2023, and afterwards, all ticket prices increase. Now is the best time to save your spot for what's going to be a spectacular event to remember happening April 16-18, 2024 in Palm Springs, California.
At GSMCON, the largest social media conference for government employees, attendees will meet either in-person or virtually from wherever you are for the socialgov event of the year. You can expect an experience not found anywhere else where you'll…
Genuinely connect with your socialgov community, vendors, sponsors and speakers;

Hear from industry expert speakers in a

packed schedule

;

Get the best learning for this niche field;

And so much more!
We can't wait to see you at GSMCON2024!
---
Best communicate with the public you serve and get connected with fellow socialgovs by registering for the 2024 Government Social Media Conference happening in Palm Springs, California or virtually from wherever you are! Join our free network for bi-weekly Government Social Media Chats or professional association for member-only webinars. Sign up for our newsletter to get the latest updates on training, events and more.
We support the largest network of government social media professionals in the U.S. by guiding government agencies through complex social media issues. Government Social Media helps you successfully communicate with the public you serve, protect your agency and keep public trust while finding your support community.